March 13, 2018
Posted by:

Faith Associates

Category:

Blog
A landmark London mosque has been given Grade II* listed status in recognition of its historic, cultural and architectural importance.
The London Central mosque in Regent's Park was built in the 1970s, three decades after the acquisition of the site was authorised by Churchill's war cabinet in recognition of the importance of Islam in an increasingly multicultural society.
A design by the British architect Sir Frederick Gibberd was chosen in an international competition. According to Historic England, which recommended the mosque for listing by the Department for Culture, Media and Sport (DCMS), "his elegant scheme combined architectural traditions of British modernism with historic Islamic forms".
The mosque, which took two years to build at a cost of £6m, can hold several thousand worshippers in its grand prayer hall. Its golden dome and 44-metre minaret make it a London landmark.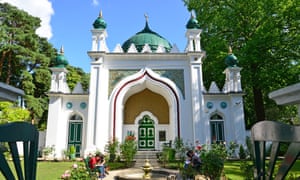 The DCMS has also upgraded the listing of two other mosques. The Shah Jahan in Woking, Surrey, England's earliest purpose-built Muslim place of worship, has become the only Grade I listed mosque in the UK, upgraded from its previous Grade II* listing.
A mosque at 8 Brougham Terrace in Liverpool was promoted to Grade II* "in recognition of its significance in telling the story of the emergence of Islam in England", said Historic England.
Established in a Georgian terraced house in 1889, "it is an example of Liverpool's capacity to embrace different cultural and faith communities, as well as evidence of the social and cultural diversity that developed as a consequence of the city's role as an internationally significant port and trading centre".
Michael Ellis, the heritage minister, said:"By listing these beautiful mosques, we are not only preserving important places of worship, but also celebrating the rich heritage of Muslim communities in England."
A guide to Islamic architecture in Britain, published this month by Historic England, charts the architectural and social history of Islamic places of worship. The British Mosque, by architect Shahed Saleem, analyses different types of mosques to illustrate the diversity of the UK's Muslim population.
Source: https://www.theguardian.com/world/2018/mar/13/london-central-mosque-given-grade-ii-listed-status-historic-england